Hi all! This is a continuation of last weeks
Toy Army Tuesday
in which I talked about the toy on the left (Wood Donkey Dunny). Today am going to tell you all a little about the Wood Labbit by
Amanda Visell
and
Frank Kozik
(on the right).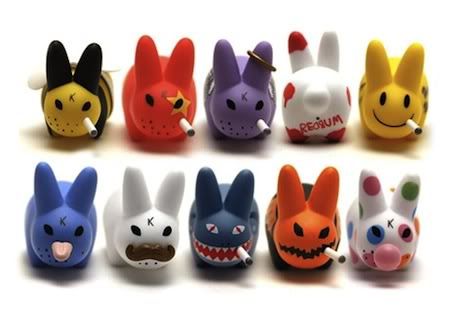 Image source:
Styletax
To start with, I think it is important to tell you exactly what a "Labbit" is. Smorkin Labbits are cute and often naughty rabbit like vinyl toys typically found smoking... among other things. Smorkin Labbits were created by the graphic artist,
Frank Kozik
.
"Credited with single handedly reviving the "lost" art of the concert poster, his creative career rose largely out of his enthusiasm for Austin's growing underground punk rock scene in the mid-eighties. Starting with black and white flyers for friends' bands posted on telephone poles, his reputation grew as an artist whose work was graphically compelling as well as culturally gripping. Kozik is based in San Francisco, California, where he produces artwork, toys and graphic design. He formerly managed his own record label, Man's Ruin Records (1995-2001). Under which, he released over 220 singles and full length albums including the first Queens of the Stone Age single. He has produced artwork for a diverse range of musicians such as Pearl Jam, the Butthole Surfers, Green Day, Neil Young, Sonic Youth, the Melvins and many more." -
Nevermind Gallery
.
Needless to say he is a pretty cool guy with awesome artwork. I even bought my boyfriend one of his
prints
for christmas since he loves his work too. Let's get back on track though - on to the Wood Labbit.
The 5" Wood Labbit was a San Diego Comic Con exclusive in 2009. This Labbit is unique because it was the first Labbit designed by someone other than Kozik himself. According to the box the Wood Labbit roams the forest with an axe in place of his missing ear. After losing his ear to Kozeek, a deranged lumberjack, the Wood Labbit devises a quite appetizing plan for revenge (see the image of the lumberjack on his belly). Only 300 of these were made, making the item pretty rare.
As you can see, my little guy is signed by both artists! This is by far my favorite vinyl toy. Unfortunately, I did not start collecting my toys until last year, so I obviously did not get to meet the artists for their signature. I bought this little guy from
Signed by Kozik.com
last year as a christmas present to myself. I have no regrets as my set is complete, and I am happy to own something both the artists have touched.
Until next time...have a beautiful afternoon!!