This post is a continuation of my dunny collection and
Dunny post
from last week. As I said before, I currently own two 8" dunnies. The Dievas dunny was the first large dunny added to my collection. How could you turn down those adorable owl eyes?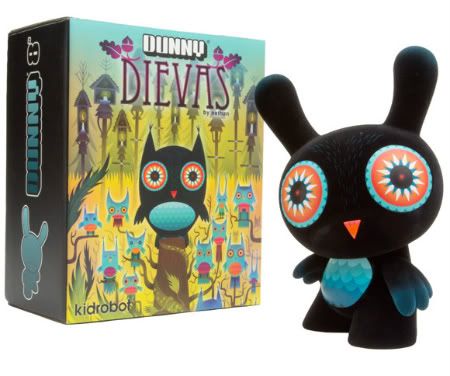 Image source: KidRobot.
The Dievas Dunny was designed by Nathan Jurevicius, creator of
Scarygirl
. According to KidRobot, Jurevicius "re-imagines the divine Dievas of Lithuanian lore for his first-ever 8″ Dunny. As a soul-escorting owl, this black-flocked Dunny with vinyl belly plumage, bright geometric eyes, orange beak and gradient-tipped wings shepherds spirits on their eternal journey." The Dievas Dunny was first sold in February of last year and only 1,500 were created.
Here is my Dievas Dunny in owl of his glory ;]
Cute, huh?
In case you were wondering Nathan Jurevicius also creates Scarygirl vinyl toys. Scarygirl is Jurevicius's most acclaimed project to date. According to his website Scarygirl is "a psychedelic, dream-like composition of heartfelt stories and reinterpreted folklore based around a cute but slightly odd little girl and her giant octopus guardian." To learn more about his work please check out the
Scarygirl website
.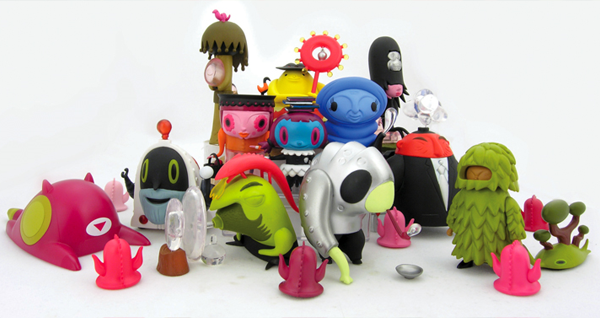 I do not currently own any Scarygirl vinyl toys, but would LOVE to add some to my collection soon. Do you notice a trend in what I like to collect? Cute but slightly creepy :]
Have a wonderful Tuesday everyone! Also, have you entered my giveaway?
CLICK HERE
for more details.