For todays
Toy Army Tuesday
I want to talk about one of my personal favorite toys from my collection - the Wood Donkey Dunny 8" by Amanda Visell (I will talk about the 5" Wood Labbit next week). This is the last installment of my
Dunny collection
(for now).
For those of you unfamiliar with Amanda Visell here is a brief bio from the
Amanda Visell website
, "Amanda Visell's fine art career sprouted from continuing failure. A high school drop out and Cal Arts reject, she moved to Los Angeles to pursue a career in traditional animation eventually finding her way to stop motion animation as a designer and sculptor, working on stylized projects for shows like The Simpsons and the feature film Elf. The challenge of mastering new tools and techniques in this medium taught her to be able to visualize her own style. She has been exhibiting her paintings and sculptures internationally since 2005 including Disneyland USA and has created a thriving world of characters as designer toys." To check out more of her work please visit her
website here
.
Aren't they cute? Once I began collection Dunnies I became infatuated with them. I spent way too much of my free time exploring which ones had come before me that I missed out on. One day while surfing the web I stumbled upon the Wood Donkey Dunny. As soon as I saw his precious face holding an axe with his tree stump friend I knew I had to make them mine, so the quest began...
The Wood Donkey Dunny was released in 2009 and only 1500 were made. At the time they cost $75. Jump forward 2 years to 2011 and the price had skyrocketed to $280 or more if you were lucky enough to even find one listed (to my dismay) on ebay - yikes! I didn't have that much money for a toy. I looked through all of the Dunny forums in search of this toy and I couldn't find anyone willing to part with their toy. Everyone seemed to be in search of one themselves. Thankfully, after about two weeks of extensive searching I found the
Richard Goodall Gallery
in England. Part of what I love about collecting toys is that you never know where you are going to find that specific toy you have been looking for. My Wood Donkey Dunny had to travel all the way from Manchester to my collection here in the States :]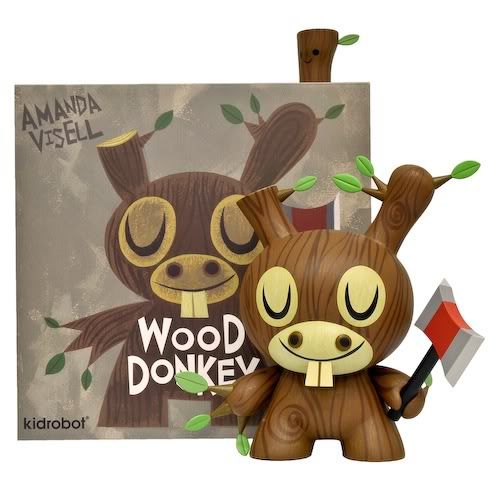 Image source - Vinyl Pulse.
Hope you all enjoyed learning a wee bit about the Wood Donkey Dunny and how he became a part of my collection. Next week I plan to show off his little friend - the Wood Labbit - signed by Amanda Visell and Frank Kozik!